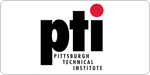 Selected School: Pittsburgh Technical Institute
Disclosure:
For graduation rates, earnings, and educational debt information, please visit us online at pti.edu/disclosures
Description: 

Thanks for your interest in Pittsburgh Technical Institute. As the marketplace continues to become more competitive, rewarding those with the right training for the job, Pittsburgh Technical Institute is ideally positioned to give you the skills you need to compete. In fact, you can choose to get your certificate or associate degree at our convenient North Fayette campus in several emerging industries including:



Business
Health Care
Design
Building Technology
Nursing
Criminal Justice
Welding Technology
Culinary Arts
In addition to a diverse, market-centered program offering and a continued commitment to hands-on training and flexible schedules, you'll have the opportunity to take advantage of:
Programs designed by industry insiders
Career placement services
An Adult-Centered Learning Environment at our Cranberry Center
Industry-recognized certifications
Financial aid available for those who qualify
Plus, you can receive a certificate in as little as 9 months, or an associate degree in as little as 21 months.
So go ahead, tell us a little about you, and we'll send you some information about us.
Required is a high school diploma or GED; some programs of study require a background check or other special admissions conditions.
Middle States Commission on Higher Education
Pittsburgh Technical Institute is accredited by the Middle States Commission on Higher Education (MSA), 3624 Market Street, Philadelphia, PA, 19104, 267.284.5000, (www.msche.org). MSA is an institutional accrediting agency recognized by the U.S. Secretary of Education and the Council for Higher Education Accreditation.
Program Accreditation
PTI's Medical Assisting program is accredited by the Commission on Accreditation of Allied Health Education Programs (www.caahep.org) upon the recommendation of the Medical Assisting Education Review Board, permitting graduates to sit for their certification exam.
PTI's Surgical Technology program is accredited by the Commission on Accreditation of Allied Health Education Programs (www.caahep.org) upon the recommendation of the Accreditation Review Council on Education in Surgical Technology and Surgical Assisting.
PTI's Therapeutic Massage Practitioner program meets the requirements of an Assigned School for the National Certification Board of Therapeutic Massage and Bodywork.
Degree Authority
In 2003, the Pennsylvania Secretary of Education authorized PTI to operate as a college and to award the Associate in Science degree to graduates of approved programs.
Approvals
- Approved for the training of state rehabilitation students
- Approved by the U.S. Citizenship and Immigration Services (USCIS) in the Department of Homeland Security
- Approved for the training of veterans and war orphans
- Approved for the training of dislocated workers through CareerLink
Military Friendly
G.I. Jobs designated Pittsburgh Technical Institute a military friendly school placing the institution in the top 15 percent of colleges and universities nationwide.
International Tutor Program Certification
PTI's Tutoring Center is authorized to issue certificates to tutors meeting College Reading and Learning Association (CRLA) requirements.
Honor Roll
PTI is a member of The President's Higher Education Community Service Honor Roll.
Show more
Tell us about yourself so we can provide helpful info about this school