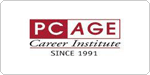 Selected School: PC AGE Career Institute
Description: 

With a sincere desire to help people improve their lives through education, PC AGE's mission is to provide world class career education in Information Technology (IT) within a relatively short time.




Introduction/Institutional History

PC AGE is accredited by Accrediting Council of Independent Colleges and Schools (ACICS) and Federal Title IV eligible institute that provides career education in the Information Technology (IT) field. PC AGE has four locations in New Jersey: Jersey City (Main Campus), MetroPark (Branch Campus), Parsippany (Learning Site) and Passaic (Learning Site).




Zafar Khizer and his wife Arifa Khizer established PC AGE in 1991. Zafar Khizer holds a Master's degree in Computer and Information Science from New Jersey Institute of Technology (NJIT) and is the author of 17 computer books. Some of his books have been used in universities and colleges including New York University. Arifa Khizer has a BS in Electrical Engineering and an MS in Biomedical Engineering from NJIT.




PC AGE was among the first career institutes in New Jersey to offer IT certification training to working adults. It has a solid foundation – that includes an excellent team of employees, unparalleled technical expertise and training curriculum, excellent reputation, and a copyrighted scientifically validated Computer Aptitude Test.




In 2005, PC AGE received 43 semester college credits recommendations for its Internetwork Engineering program from the American Council on Education (ACE). In 2008, the Program Review Team from Thomas Edison State College (TESC) also evaluated and recommended 43 semester credits for its Internetwork Engineering courses. PC AGE has created an articulation agreement with TESC to transfer credits earned at PC AGE for an Associate's or Bachelor's degree from TESC.
Show more
Tell us about yourself so we can provide helpful info about this school